Finding customers is only half of the battle. The last few years have proven just how hard it is to build and maintain a great team. With the freedom and technology to work remote, geographical hurdles have been eased and the American workforce is in motion. Folks are taking stock of what's important to them and shopping the new career options that are now available.
It's being called "the great resignation" but it's really more of a "great reevaluation."
HR teams are tasked with making sure the organization ends up on the right side of this great reevaluation with a stronger, happier, and more productive team. It's a massive undertaking that is constantly changing, with varying demand and no shortage of surprises for HR teams that are likely understaffed themselves.
While this is certainly a challenge, there is also an opportunity. We've been able to step in and support HR teams by making sure their candidate funnel is full. We want to be sure that when all of these folks are reevaluating their options, they see your position!
HR teams can spend their time vetting, interviewing, and doing the work to find a great fit, while we make sure there are plenty of eyes on your job posting and folks considering the position—all without the heavy commission paid to an outside recruiter.
Q+M runs recruitment campaigns for public and private organizations all over the country. Whether you just need the advertising part off of your very full plate, or you want to bring in our powerful customer-side experience to the recruitment aspect of marketing, we are ready to hit the ground running.
City of Danville—Media Supporting Recruitment
The city of Danville, VA is a long-standing HR client of ours, with a diverse range of positions and hiring needs. Their challenge for us is to communicate the value of working a city job to qualified applicants, and to drive those prospects into the hiring funnel by applying.
We provide a comprehensive range of services to achieve the city of Danville's goals: branding, media planning, paid digital strategy, copy, and graphic design. We've selected channels to target applicants who are in a professional or employment-seeking mindset with ads for specific industries and open positions. We also take advantage of seasonal job cycles, such as parks & recreation jobs in the summer, and entry-level opportunities for new college grads in the spring.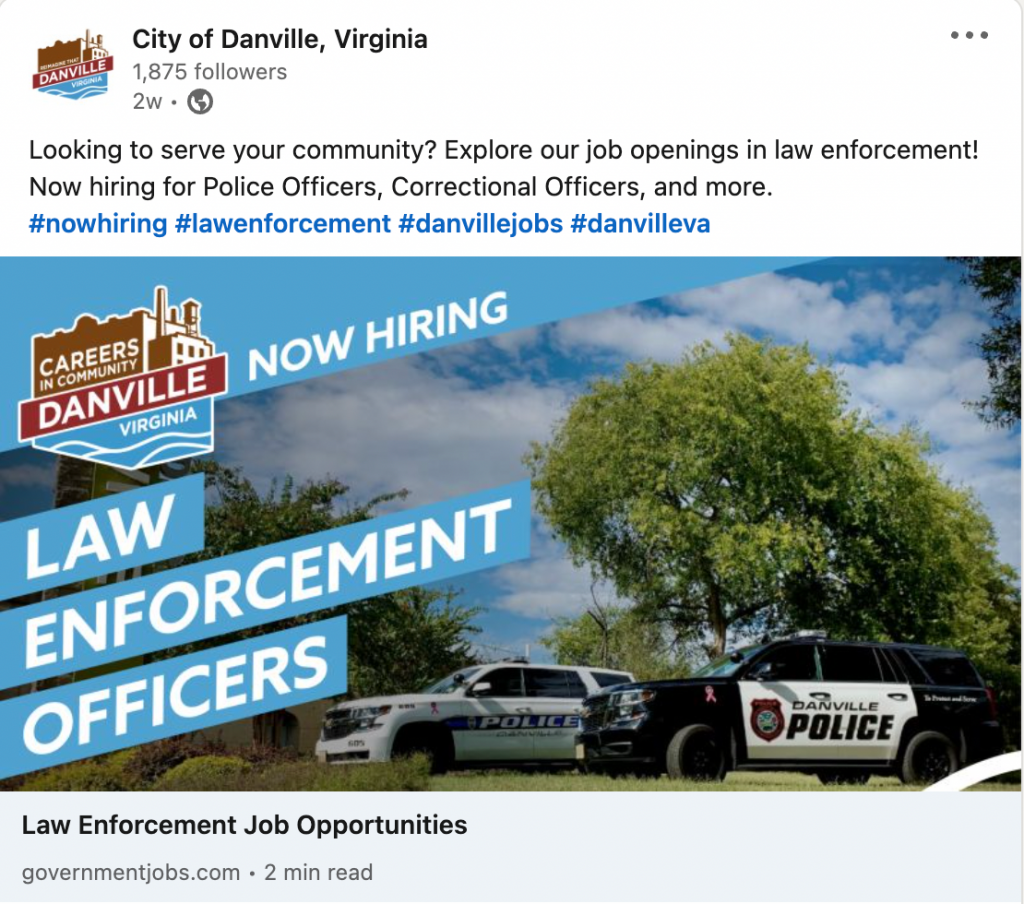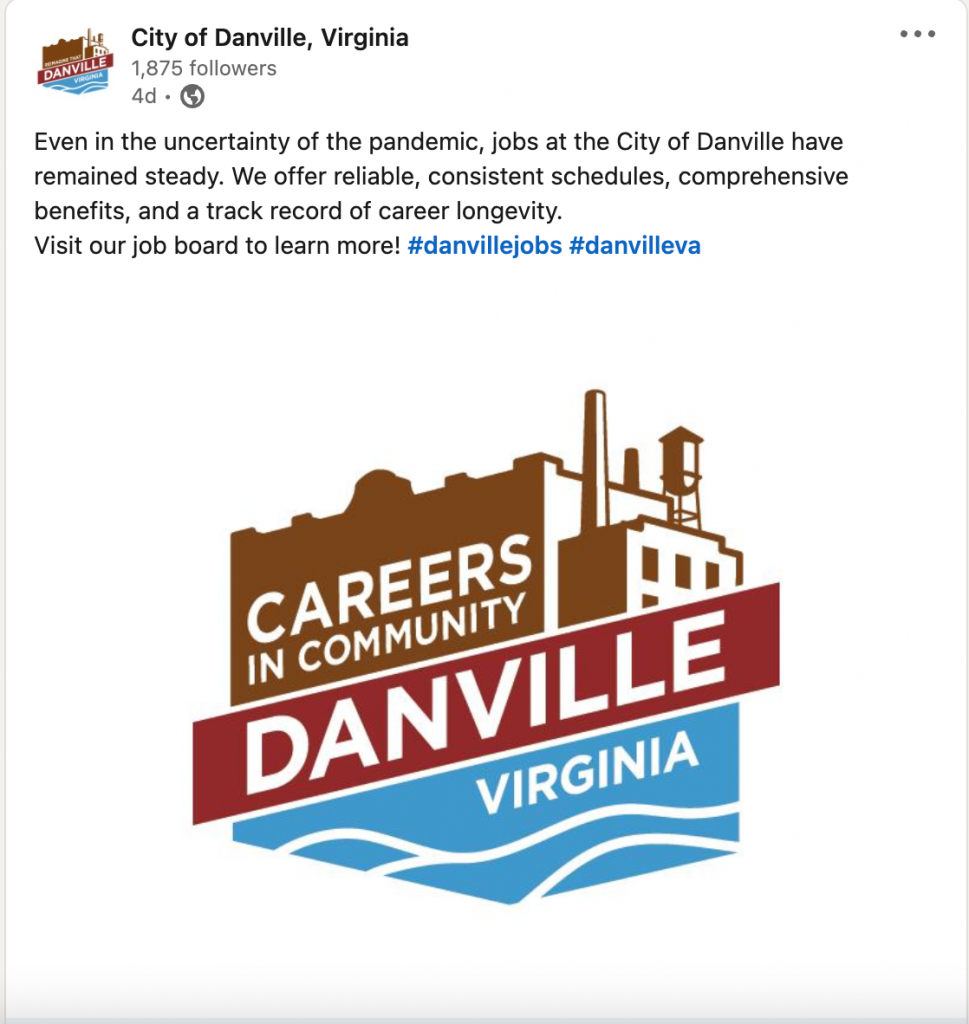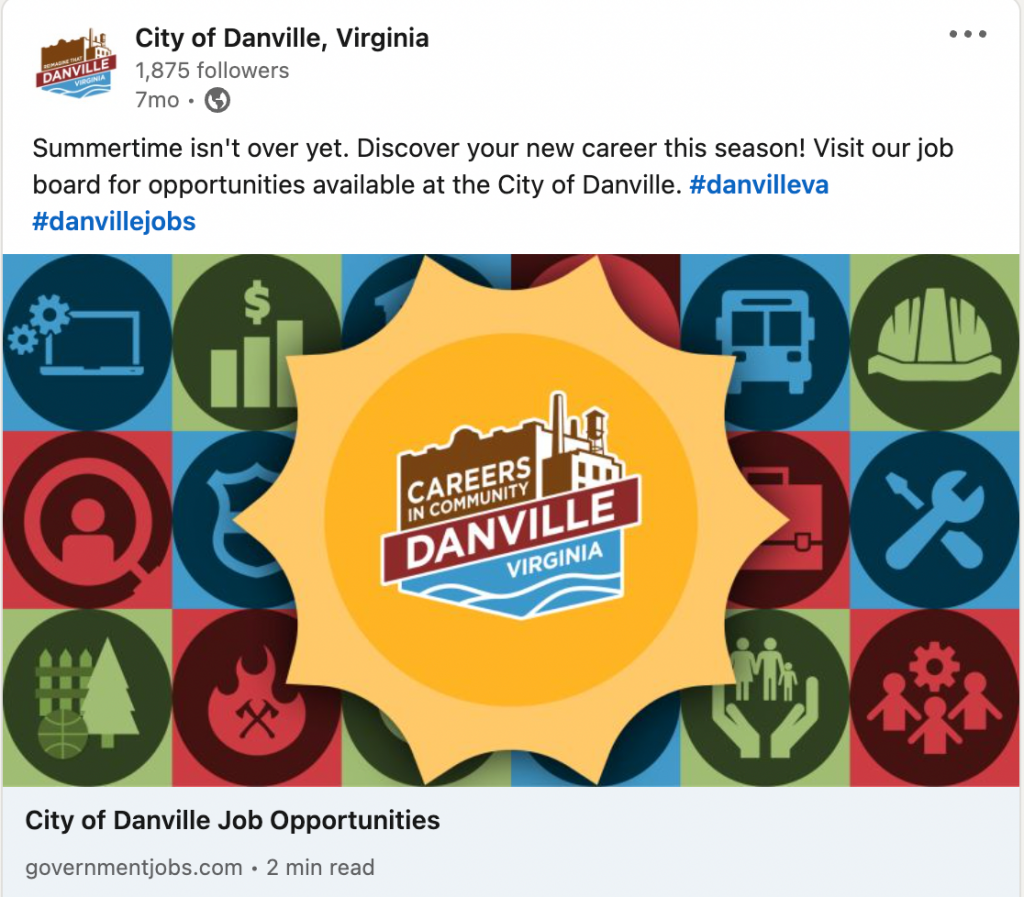 The results? Our digital support has directly driven over 500 applications. That's hundreds more candidates channeled into Danville's recruitment funnel.