As brands gear up for spring, it's a perfect time to take a fresh look at your digital marketing strategy. Just as the seasons transition, invest time in dotting the i's and crossing your t's to make sure your brand has its best foot forward.
There's a world of pent-up up and, as most economists forecast, plenty of pent-up demand, too. With not one, not two, but three coronavirus vaccines now approved for use in the US and in distribution, falling case numbers across the country, and a growing number of Americans safely vaccinated, there's hope. Hope for normality, and for so many of us, that means getting back to the things we love. For brands, that means an opportunity to welcome people back to normal life, and their normal habits, through smart placement, promotion, and engagement.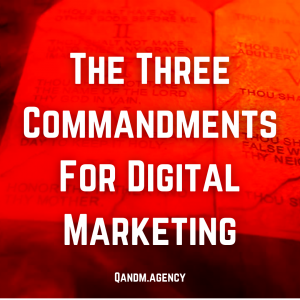 We've boiled down some elements of these back-to-normal marketing efforts into three key points. Not all three suit any type of business or industry, but they're smart places to start as you craft spring and summer campaigns.
Turn The Channel. Now is the time to retrain your customers to accessing active sales channels. As in-person events, in-person dining, and in-person work and school come back, habits are going to change, but there will be a lag. With that in mind, support all avenues your customers have to patronize your business and clearly communicate each. For example, Michigan restaurants are still operating at 25% occupancy. It's important to highlight that this service is available, but it makes financial sense to continue to promote curbside; no one wants to show up and not be able to get a table after being told dine-in is back.
Additionally, brands have invested heavily in the sales channels established over the past year. Those are the habits that we can expect to linger. It's important to analyze and monitor the transition of old trends, new trends, and the slow transition into what everyone is calling the 'new normal'.
Tell Them All A-Bot It. Automated messaging and chat functions from Facebook and Instagram are increasingly important tools as more and more conversations – and transactions – start on social media. Even if you already have these tools set-up, make an effort to keep them fresh and updated. As your services, products, and availability change, keep your automated conversations updated as well. These bots are very easy to customize and personalize, but don't think of them as an end-point. Instead, use these bots to hold a customers' attention until a real representative can pick up and drive the conversation. The biggest drawback to a digital shopping experience is the lack of human contact, so find a way to put a human on the end of your customer's questions.
Know Your Audience. Brands need to understand their customers, and over the past year, that may have changed substantially. Consider airlines. Even regular, avid, experienced travelers have new concerns in 2021 ranging from health worries and travel restrictions to financial hardship to differing COVID-19 guidelines between home and destination. With that in mind, brands need to shift their focus and conversation to address those types of reservations and offer a considered, understanding, and responsive voice.
Every industry is facing uncertainty, a point brands have leaned on for over twelve months. Be human, be communicative, and be adaptable to the changing situation.
If you have questions on how to hit 2021 at full speed, let's talk.